Iranian wholesale saffron
There are countless Iranian saffron wholesalers all around the world.
In most cases, they get Iranian wholesale saffron from regions and villages with many small farms in which farmers are lacking essential information to cultivate the expensive and very demanding classified saffron.
Also, bulk saffron sellers are often without proper equipment to test and sample the saffron to check the standards issues and Iranian saffron wholesalers usually buy saffron from the farmers without only checking the saffron's physical appearance.
Eyjan saffron team is proud to be one of the limited numbers of Iranian wholesale saffron companies that carry out its saffron production process independently from cultivation to processing and packaging.
And it consists of personnel who are aware of the agricultural situation and offer you first-class and original saffron without intermediaries and minimal profit.
Therefore, Eyjan saffron company can supply all kinds of Iranian saffron which are Negin saffron, Sargol saffron, Pushal saffron, and Bunch saffron, in the quality above the standard level in bulk and different retail boxes, and unlimited quantity.
Through the ongoing monitoring of Eyjan saffron farmland, we always strive to provide pure and organic Iranian saffron free from contamination and impurities when purchasing saffron from farmers.
Also to ensure the quality of our saffron you can order a sample of saffron before the final order to get acquainted with its quality, fragrance, and powering color.
wholesale saffron from IRAN benefits are explained below
Why buying Iranian wholesale saffron from Eyjan company
Why buying wholesale saffron from Iran
Major markets of Iranian wholesale saffron
What are the characteristics of high-quality Iranian saffron?
The ways an Iranian saffron wholesaler could cheat and the methods of distinguishing
Details of ordering Iranian wholesale saffron from Eyjan saffron company
Why can you trust Eyjan company as an Iranian saffron company?
Assurance of the highest quality Iranian wholesale saffron
There is a lot to be careful about buying wholesale saffron from Iran. Also, because of counterfeit products that can cause irreparable damage to buyers, you need to buy from a reputable saffron wholesaler.
There are many Iranian wholesale saffron centers, but most of these wholesalers are not themselves producers of saffron, which causes them to supply their saffron from other saffron wholesalers or producers.
So the quality and price of the saffron of these Iranian wholesale saffron markets are different from buying saffron from the manufacturer.
We are one of those few Iranian saffron wholesalers who are saffron producers too.
Currently, bulk saffron produced in our saffron farm is used for Iranian wholesale saffron and our brand packing, but if needed we buy bulk saffron from the farmer if its quality is high.
We supply our Iranian saffron in two ways: first, we produce it ourselves, and second, we buy from the known farmers that we have regular supervision over their farmland.
There are many small farms when saffron bases multiply in area, the density and capacity of the limited property area cannot give efficient space for productivity growth, therefore the farms prefer to sell their saffron bases to the saffron wholesaler.
Iranian saffron wholesalers store these saffron bases (onion) for the cultivation season and sell them to farmers who are cultivating for the first time or have weak saffron bases.
Iranian wholesale saffron companies monitor the whole cultivation process and give farmers extensive advice for growing up high-quality saffron.
Soon after saffron is a complete grownup with yelling flowers, there are two options for farmers to decide, either they handpick the flowers and process to dry saffron and make it ready to sell, or like most of them, they sell flowers to Iranian saffron wholesalers and wholesale saffron business organization will process and dry saffron is very knowledgeable Way which results in super NEGIN luxury expensive dried saffron ready to use.
Within two months saffron gives many flowers ready to pick when all procedures of saffron processing and drying are done a huge supply happens.
This is the season that big wholesaler buys and stock Saffron for a whole year till the next saffron harvesting.
Producing saffron in most cases is non-standard and is done without observing health principles.
This motivated us to cultivate saffron, besides, acting as an Iranian wholesale saffron company and continuing to run the business relying on our agricultural technology and farmlands in different parts of Iran.
At Eyjan Saffron Company, all our efforts are first to provide premium and foremost saffron to our customers, and second, the price of Saffron offered in our company is fairer than the other offered prices.
So if you are planning to buy wholesale saffron in Iran, you can be sure of the origin and quality of the saffron by buying from our company.
Offering the most reasonable price compared to other Iranian saffron wholesalers
The price of saffron varies widely in different Iranian wholesale saffron. The reason for this price difference is the quality of Iranian saffron and the presence of intermediates.
Eyjan Saffron Company In addition to that offers high-quality, pure, and first-class saffron to its customers, it is offered to you at a very reasonable base price.
Because Eyjan Saffron is a saffron manufacturer, it sells Iranian wholesale saffron in Iran and other countries at a fair price.
If you buy saffron from an Iranian saffron wholesaler like Eyjan company which is also a saffron producer, you will get the best saffron at the most reasonable price.
We have removed dealers as possible to supply the Iranian wholesale saffron with its real price.
The Iranian wholesale saffron price from Eyjan saffron company is much lower than the price of selling saffron in other companies.
Iranian wholesale saffron in Eyjan saffron company is possible in bulk or packaged.
You can contact the company for wholesale high-quality Saffron prices in grams and kilogram.
Another difference is saffron packing. Cheap saffron is often sold in delicate plastic containers, which may be done to reduce the price of saffron, but the exposure of saffron to light can cause thermal and chemical reactions with the plastic that can eventually cause spice damage.
The more expensive saffron usually comes in polycrystal, glass, or metal containers, with a vacuum seal, and in a dark box to prevent direct light.
The price of packed saffron And the type and quality of the saffron depends on its packing.
The price of 1 gram of saffron packed in rectangular polycrystal containers is less than one gram of saffron in polycrystal jars.
The variety in packaging and the different qualities as well as the unstable price of saffron make it impossible to offer a price here.
Contact us for a quote on the Iranian wholesale saffron price and buy saffron.
Mobile/ What' App/ We chat (+989122386171)
Another reason for the Iranian wholesale saffron price uncertainty is competition. In the saffron market, each saffron wholesaler has set a price for their saffron so that a lower price can attract customers, but the low price of saffron is not a reason for the quality of the saffron because it is likely that the saffron has been purchased from different parts of the country with different qualities.
wholesale saffron in Iran also has special requirements such as always having access to saffron so that whenever the buyer orders the saffron can timely supply their saffron in large quantities
As this is available in Eyjan company.
If you are a buyer of saffron and you are going to buy wholesale saffron from Iran, you must first determine which saffron wholesaler is capable of supplying and selling the saffron.
On the other hand, they should be able to offer saffron at the most reasonable price. The saffron wholesalers have this feature who first are primarily saffron producers themselves, and second, they are attached to many farmers and make their saffron easily.
Producing high-standard organic Iranian saffron
Due to the low supply and high demand, most saffron producers prefer to cultivate conventional saffron.
Iranian wholesale saffron and bulk saffron sellers are often without proper equipment to test and sample the saffron to check the standards issues and saffron wholesalers usually buy saffron from the farmers without only checking the saffron's physical appearance.
Eyjan company is one of the few Iranian saffron producers which produce organic saffron.
What is organic agriculture?
(Organic, Natural) are a form of agriculture that does not use chemical fertilizers, pesticides, hormones, and genetic manipulation in the production and processing of its products, and all processes of soil enhancement, planting, and harvesting using natural inputs (such as biofertilizers, Composts, beneficial insects, efficient microorganisms (EM).
We mainly use non-chemical methods such as biological control, mechanical traps, choke and steam, and flood irrigation to control pests, insidious animals, and diseases.
Through the ongoing monitoring of our saffron farmland, we always strive to provide pure and organic saffron in bulk and retail boxes ( gift boxes) saffron, free from contamination and impurities when purchasing saffron from farmers.
Eyjan saffron is an Iranian wholesale saffron company with high quality and very reliable delivery services with the best Saffron in the best packaging to our dear customers as our business all over the world.
We are very much careful with the standardization of our products which leads the product purity and high-quality natural saffron this care of processing enabled our company to obtain numerous ISO standard certifications.
The saffron offered in our store goes to the lab and is evaluated for coloring power, crocin, safranal, moisture percentage, and other standards.
At the Eyjan Saffron Company, all the necessary tests are done on the saffron and the saffron is offered to the buyer without any problem. We also send you the original phytosanitary certificate of the saffron.
But unfortunately, due to the united states of America's sanctions opposed to our country, the international Organic auditing companies are not able to audit and grant the organic certification to our company.
All kinds of Iranian saffron are available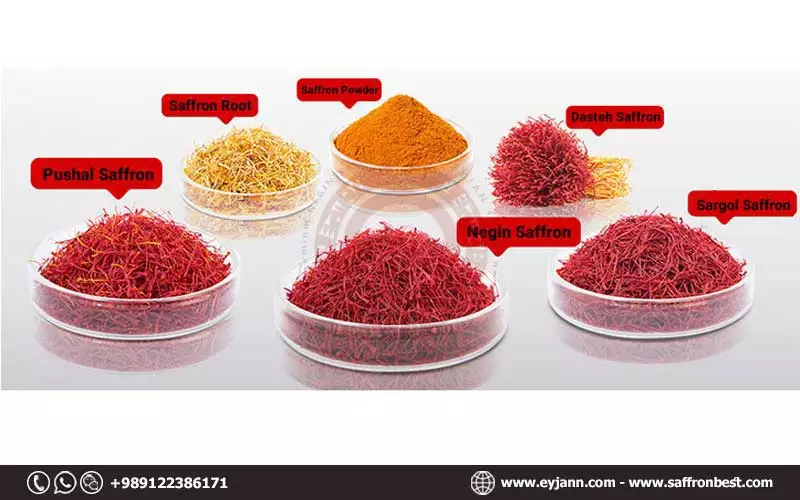 Eyjan Company Can supply any kind of Iranian wholesale saffron you need.
Our product includes all kinds of Iranian saffron which are:
1. Negin saffron (Super Negin saffron, Exported Negin, Normal Negin)
2.Sargol saffron
3.Pushal saffron
4.Dasteh/Bunch saffron
All types of Iranian saffron plus saffron powder are produced in the best quality and even the quality and coloring power of our saffron is above the standard level.
Up-to-date bulk saffron boxes available
Bulk saffron containers are used in Iranian wholesale saffron.
Metal boxes and plastic bags are used for packing bulk saffron as per the customer's order.
Nowadays, Iranian wholesale saffron boxes are as charming as retail boxes, and Eyjan uses up-to-date bulk saffron boxes.
We also pack the saffron in retail boxes. Retail (gift) boxes include 1gram, 3grams, and 5grams weight boxes.
Retail boxes also have different types: metal boxes, glass jars, and rectangular glass boxes are available for packing retail saffron.
The minimum order quantity (MOQ) should be 1 kilogram.
So our main sale services start from 1k/g and all production is 100% pure, natural, organic and all levels of harvesting and processing are carried out in the presence of experts.
Unlimited wholesale saffron quantities are available
By Buying Iranian wholesale saffron from Eyjan saffron producer company, besides, to buy high-quality saffron, you can buy this product in available high quantity if needed.
We have no limitation on the wholesale saffron in Iran, so if you order the Negin Saffron in one season of the year and ask for another kind of Saffron in another season, there are always large quantities of saffron available.
Eyjan Saffron Company offers the best quality of Saffron in unlimited quantities. If you are going to buy wholesale saffron from Iran, please contact us.
Mobile/ What' App/ We chat (+989122386171)
Buying samples before bulk purchase is available
As we mentioned before, we grow natural saffron. Natural saffron has a unique aroma and taste, and the effectiveness of natural saffron is far greater than that of ordinary saffron.
When you buy Iranian wholesale saffron from our company you can order the sample of saffron before final order, get acquainted with its quality, fragrance, and powering color and if you approve, make your final order for buying kilograms of saffron.
To do this, it's enough to order just 50 grams of any kind of Iranian saffron you want with the quality you want and it will be shipped to you.
It should be noted that shipping is not free and the sample is shipped by an International postal courier, which costs a maximum of 200 grams of net weight and a maximum of 500 grams of gross 150 Canadian dollars.
why buying wholesale saffron from Iran?
Iranian saffron contains less safranal
Iran is the largest saffron exporter in the world with more than 90% share of saffron production.
Although some other countries produce saffron. Due to the lack of climatic conditions and other factors affecting the production and quality of saffron, they have not been able to produce saffron the same as the quality of Iranian saffron.
Climate change and geographical conditions affect the quality and quantity of plants, especially saffron, and plants grown in different parts of the world may have different substances and thus have different effects or different therapeutic values.
One of the substances in saffron that high levels of it cause toxicity of saffron is a substance called safranal, which is one of the main ingredients of saffron.
Iranian saffron contains less percentage of safranal than saffron grown in different parts of the world, and this is one of the most important and major advantages and differences between wholesale saffron from Iran and other countries. It can be said that the toxicity of Iranian saffron in large quantities is lower than non-Iranian varieties.
Iranian wholesale saffron is quality guaranteed
One of the concerns of saffron companies and Iranian saffron wholesalers which are involved in the export of Iranian saffron is the purchase of bulk saffron from Iran at an underpriced by the other countries in Iranian saffron by companies which make their brand and boxing although saffron inside the box belongs to Iran, besides, they might re-exported Iranian saffron as Spanish saffron, Indian saffron or Afghanistan saffron in some cases make also fake saffron by mixing pure natural Iranian saffron with colored saffron cream for more illegitimate benefit.
For these reasons, it is important to know where to buy first-class saffron. The best thing to do when buying exported saffron is to buy saffron directly from the saffron manufacturer because the supplier of saffron is the farmer.
Iranian saffron bulk price is lower than saffron retail boxes. Bulk saffron along with packed saffron in Iran is the saffron that has the highest quality produced with very natural pure saffron.
To buy bulk or packed saffron from an Iranian saffron wholesaler or saffron companies just search for real first-hand saffron producer companies, the good news is fortunately in recent years all provinces in Iran produce saffron some of the provinces' farmlands are producing even better quality compared to Khorasan province but still Khorasan is the largest producer of saffron in Iran, which all Iranian wholesale saffron companies buy their saffron from this area but year by year this trend is shifting to other provinces, especially to Tehran. The saffron produced in this area (Tehran) has very high quality but is not the only saffron supplier.
Most Iranian wholesale saffron businesses are in Tehran and Khorasan considering the history of business ethics in Tehran, you might find better expert companies with more trustworthy that comply with ethics in Tehran, as result Iranian wholesale saffron companies can easily buy their required saffron and export them to other countries. Persian saffron is the most consuming saffron, due to its high quality and the recently develop packing process along with the fair price.
Researches show that the transition from wholesale saffron to retail in the short term is feasible by branding and government help to ameliorate the business negotiation with highly densely populated countries to lower the import saffron tariff which may result in a lower price available for everyone compared to other countries saffron production. However, this long-term transition is consistent with the wholesale saffron or retail price decline.
In other words, the sensitivity of retail prices is not the same as the long-term decline in saffron wholesale prices. Given the fact that there are opportunities to increase the margin of the market and profit from intermediaries, it is suggested that the supportive policies increase the bargaining power of the producers, but pricing policies now are The reason for an unfair prices which is harmful to long term saffron export, since the profit earned by Iranian saffron wholesalers but not by the farmer labors.
The relationship between the Iranian wholesale saffron companies and the international marketing agents by which the product reaches the consumers from the hands of the Iranian saffron companies is identified as the market path. The tracing of these paths is related to product transfers, and the route that leads the major part of the product to the market. Major routes of saffron international marketing are in major cities producing saffron in Iran provinces.
According to the fact that the major part of dry saffron is sold to the cities wholesale saffron market and local saffron companies by saffron farmers, and finally Iranian saffron wholesalers buy it from the market, in Tehran and other cities, according to the previous order has been explained. Retailers in Tehran and other cities usually produce saffron from three sources: either directly from farmland in the production areas, from wholesale saffron businesses in other regions, and Tehran, or from big companies that produce saffron, in packaging and Standard certified process. saffron Packaging companies also buy saffron in bulk from saffron wholesalers in all saffron-producing provinces, like Tehran or other cities, and export them in a standardized way for export which will be ready to be exported in gift box or bulk with the saffron wholesale exporter.
In the saffron market, there are brokers who directly or illegally export saffron in bulk outside the country (Afghanistan, Pakistan, Turkey, and Iraq) or, according to previous explanation, the Iranian wholesale saffron business of Mashhad, or in some other cities are sold through these agents who are illegally export unstandardized quality saffron from the country. In general, in the current market system, saffron-producing farmlands and companies which are produce standard saffron in the condition of benefit and good motivation, but due to product movement from inappropriate distribution channels, the producer's benefits are minimized and, on the other hand, the domestic consumer buy the saffron with the maximum unfair price.
This trend continues while foreign wholesale saffron companies get Iran's product at less than half the world market price due to the fact that the saffron, they are buying is not of the standard quality.
saffron wholesale companies in Iran which are producing high standard benefits are very low, for the cost of grading, packaging, and advertising is more than the price of the main product(saffron) and they earn a small income from the sale of the final production. This lack of coordination due to the farmland union and government coordination along with mall saffron wholesale businesses coherent organized selling process distribution, due to the lack of knowledge of the saffron quality and high price of testing machinery, the market situation and the price fluctuations plus the misinformation on supply and demand changes are the results of inorganized informing policy in the whole world markets.
Maybe you are one of those saffron importers who are going to buy premium quality saffron but you have not found a reputable saffron wholesaler for buying saffron. On the one hand, you want high-quality saffron and want a fairer price to buy saffron. The solution to buying saffron is from a wholesale saffron company which is a saffron manufacturer.
You can buy wholesale saffron from Iran at great prices and first-hand saffron through Eyjan saffron company.
Mobile/ What' App/ We chat (+989122386171)
Major markets of Iranian wholesale saffron
Given that 95% of the world's saffron is produced in Iran and Khorasan province, the whole world knows saffron by the name of Iranian saffron.
The only saffron that has the first rank in Iran is Qaenat city's original saffron, which is harvested from the Red Gold Capital, Khorasan, and has a relatively high price. The Eyjan saffron company's farmland is located in this city.
Iran has 360 tons in total in 2016 that 300 tons for export. 60% export is Cut Saffron and 30% Saffron Coupe and 10% Thread Saffron.
saffron production in IRAN (near 500 tons) this identifying price, has Fsa a tangible influence on the world saffron price.
Nowadays, Spain and the UAE buy wholesale saffron from Iran every year and supply it with their name in the world.
Since Spain packs the bulk Iranian saffron with its name and offers it to global markets, the price of saffron in Spain is much higher than the price of wholesale saffron in Iran.
By doing so, the name of Iranian saffron will be damaged as the biggest competitor in the world and they will gain their profit. It will also reduce Iran's share in world markets.
Countries like Spain, although does not contribute much to the production of saffron in the world, it has been able to be introduced in the world with major imports of Iranian saffron!
Spain is the largest importer of Iranian saffron, which buys wholesale saffron from Iran in bulk and then packs and supplies it with its name in international markets.
Despite China and India's large share of agriculture export in the world market, Iranian saffron among Iran's agricultural industry has a very considerable volume of agriculture products share in the world.
Unfortunately, countries like India and China had set unfair high volume of import tariffs (import tax) to the Iranian wholesale saffron, thus saffron companies in these countries have to loop law with pricy action of taking Iranian saffron to countries like Afghanistan or Hong Kong to reexport to their countries due to elimination of the saffron wholesale custom tariff (import tax) in these countries and use the tariff exemption.
Heavy import tariffs have caused major Iranian wholesale saffron to India and China through the UAE by smuggling into these countries, on the other hand, profits from these illegal exports go to the pockets of Emirate's exporters, however, if Iran could have increased the international communication and interactions relation with all countries to open the hindering doors of heavy tariff addressing Iranian wholesale saffron.
Positive negotiations could open the exporting Iranian saffron path either in bulk wholesale saffron or retail gift boxes to the world.
Research shows approximately 64% of Persian saffron was shipped in 10-30g boxes as an Iranian wholesale saffron export bulk package from Iran in the first 10 months of this year to Emirates and Spain markets. China, Saudi Arabia, India, Hong Kong, Italy, Sweden, Germany, and Taiwan were also the other major markets for this Iranian export product.
In total, 90 percent of the country's largest saffron exports were shipped to six markets in the UAE, Spain, China, Saudi Arabia, India, and Hong Kong as Iranian wholesale saffron.
What are the characteristics of high-quality Iranian saffron?
Generally, the lower the number of white parts in stigmas, the better the saffron. The thickness of the saffron stigmas and the fact that the stigmas are smooth and without waves also make the saffron price higher.
Each type of saffron has its characteristics and is classified into different grades of quality, for example, premium Negin saffron or premium Pushal saffron. The point is that the first-class
Pushal saffron contains white parts, but the first-class Negin saffron is without white parts and is all red, so you should understand that the first class of saffron is not the only red saffron because depending on the type of saffron, there may be some white parts in the saffron in different kinds of saffron.
The most important matter in the Iranian wholesale saffron is the uniformity of the saffron strands, meaning that all the quantities of saffron you buy should have the same quality and not be a mixture of several saffrons with different qualities.
Saffron prepared for wholesale saffron with these titles also has the following characteristics.
The stigmas are tall and free from fractures.
Its staining strength is above 2.
It has a great aroma.
These are some of the most important criteria for wholesale saffron, which every buyer should be careful about.
One of the important things to keep in mind when buying Iranian wholesale saffron is fresh or old. Because as soon as the saffron is dried, it loses its flavor.
Totally, in all types of saffron, saffron that has taller stigmas means that the saffron is not crushed and broken, has high coloring power, and has a higher odor and higher quality.
The offered saffron varieties in Eyjan saffron company have high coloring power and have the least amount of whiteness of their kind so that the Negin and Sargol saffron strands are all red and without any whiteness.
To improve the quality of saffron One of the things to consider is the saffron drying methods, Iranian saffron has high quality due to weather conditions. But drying conditions and saffron storage also influence the quality of Iranian wholesale saffron.
So that non-compliance with the standard principles will cause the saffron stigmas to be broken or darkened, and the stigmas to become stale and to reduce the smell of saffron.
The saffron of Eyjan saffron Company has high coloring power, aroma, and bitter taste.
The Eyjan saffron team prides itself on being an Iranian saffron wholesaler that produces its saffron and consists of staff who are aware of the farming situation and offer you first-class and original saffron without the intermediary and minimal profit.
Site design and photography of products are done by ourselves and we sell only to saffron. This means the direct sale of saffron by the farmer in the true sense.
Full knowledge of the saffron plant and the use of local saffron cultivators' experiences have enabled us to produce high-quality saffron.
To supply saffron in large quantities, we also buy saffron from reputable and reliable farmers in the region, then process and test the saffron and supply high-quality saffron to the market.
We want to prove to everyone that farmers today are fully aware of all information and that they can do all the sale of saffron and there is no need for a broker.
Saffron keeping condition.
Since saffron fragrances can be evaporated after you are milled and the pharmacological and flavor effects are eliminated, you should keep the saffron away from light and moisture in glass containers. Saffron doesn't smell after it is dried until it is milled and moistened and its aroma is inhaled again.
The ways an Iranian saffron wholesaler could cheat and the methods of distinguishing
Although some families do not care about the originality or fakeness and the color they are looking for, it is important to know, including the chemical colors used in saffron coloring, are allergenic and carcinogenic that is in addition to economic damage.
There is also a health risk and a threat to consumer health.
Purchasing saffron is one of those purchases that the customer must be very careful during the purchase not to buy fake saffron instead of original saffron especially as it is easy to do.
Since saffron includes more material value than other agricultural products, rather than focusing on the brand or other appearance of the product, we need to learn how to distinguish the original saffron from the counterfeit.
The reason that most of the customers are deceived is that the "safflower" has a similar shape to that of saffron, and some Iranian saffron wholesalers sell it instead of the original saffron.
Some people are looking for a low price and high quality, and in the saffron market, some Iranian saffron wholesalers sell this product as first-class saffron at a lower price by mixing different types of saffron (for example, one kilo of Super Negin saffron with a few kilos of Sargol saffron). While the audience sees it as saffron, the qualities are different.
This is the most hidden fraud in the sale of saffron and unfortunately, it is very common.
With one or two strands of Super Negin saffron, you can make a cup of saffron tea or syrup.
Note the difference in color strength, fragrance, and taste.
Identifying the main saffron from the stigma of the saffron branch has some simple methods.
The tripartite branches of the stigma of the saffron, the wider upper part of the stigmas, and the lower part of it become thinner as it has some spicy flavor; if the saffron is sweet, it means that the business has added some salt or sugar to its weight. Of course, if the saffron strands are powdered, it is only detectable by laboratory devices.
Others, to determine the quality of saffron, press a strand of it between the straw paper and the newspaper and call it saffron if the fat is left untouched.
Another way is to put some strands of saffron in the water and dissolve it. If the yarn stays the same after the water is dyed, it is the original saffron otherwise it will be fake saffron.
In general, for those who sell these counterfeit products, their packing does not have the complete and correct specifications of the manufacturer. For this reason, it is often recommended that during the purchase of all the information mentioned in the package, including the full address of the factory, telephone number, manufacturing license number, trade name and registration, manufacturing or production series, production date, and expiration date, net weight, type and grade of saffron, standard mark, confirmation mark of the Ministry of Health.
So buy the best saffron directly from the manufacturer without any impurities and high quality and reasonable price by buying Iranian wholesale saffron from Eyjan Saffron company.
Increasing the volume of production and supply of saffron to the market has a major impact on the market of saffron.
The presence of different qualities of saffron in the market and the increase in supply and demand have led to more and more intermediaries and dealers of saffron entering the field and controlling the saffron market.
Our goal at Eyjan Saffron Company is to inform our customers to choose premium and high-quality saffron so that when buying wholesale saffron from Iran they can easily distinguish between high-quality and original saffron from counterfeit saffron.
Why saffron is expensive?
Saffron contains several chemical components that are expensive: picrocrocin, crocin, and safranal. They are the three main constituents or compounds responsible for the taste, color, and smell of saffron. When we talk about the quality of saffron, we are technically talking about these three chemical components.
Saffron is intrinsically a valuable spice. Because saffron harvesting requires a lot of physical work, the process harvesting, along with the distinct taste, odor, and color of saffron, has made it the most expensive spice in the world.
It should be said that spices will be used in kitchens around the world as skin and textile color and will soon be widely used for medical purposes.
Saffron is the most expensive spice in the world. After that, vanilla is the most expensive spice. But what makes saffron so expensive? Purple flowers bloom only for six weeks from the End of September to the first of December.
Saffron has a dry stigma that is part of the flower material. In the process of preparation of the saffron plant, the stigma should be separated and dried.
They are harvested at certain times of the day when there is high humidity in the air, as this can affect the quality of the saffron.
It is said that sunlight can alter the chemical structure of saffron, so it is best to harvest saffron early in the morning.
Saffron harvesting is done by hand and therefore, many workers are needed, so many workers must harvest 4 pounds of saffron. Of course, all this while the yield of saffron is really low, so for just one pound of saffron, you have to harvest 17,000,000 flowers manually.
The high price of saffron directly affects its growth. With the help of all the technologies and automation, the mechanical technology that is available cannot be used to remove or remove saffron or, if it is, very limited and not used. Flowers must be hand-picked at a specific time before dawn.
The saffron strands must be separated by hand. This is precisely manual work and requires a highly skilled and experienced workforce. It has been more than an hour working for one gram of saffron.
This means that the wages paid to workers in the field of saffron picking and wiping must be fair, or at least we all hope and think so.
After harvesting the flowers and roots are separated, the process of sorting and drying begins. It also requires great precision and knowledge.
Every little detail is very important, temperature and light, keeping conditions, saffron packing (polycrystal, plastic, metal, or glass), exposure to light after packing and most of the saffron drying process is very important for quality.
The Iranian saffron wholesaler businesses together with saffron companies and the official saffron commodity market define the saffron price in all saffron classifications.
Details of ordering Iranian wholesale saffron from Eyjan saffron company
The time needed to get ready
The time it takes for orders to be ready for wholesale saffron is 15_20 working days and for retail saffron 30_45 working days.
Packing
Metal boxes, glass jars, and rectangular glass boxes are available for packing retail saffron.
Packing in bulk or by order can be with the jar, cans of all sizes are allowed. This is the best offer for saffron buyers.
MOQ
Totally minimum order quantity (MOQ) should be 1 kilogram.
Payment
Payment may be possible by advanced payment.
Payment is against draft of BL 70%_ cash advance 30%, TT preferable but we can negotiate exportation your order sending with CIF.
Checking the products in the Tehran office is allowed.
Cost
To give you an idea about the costs please mention that there are fixed prices for 200grams to 10-kilo bulk Iran's customs formalities like 200 to 250 Canadian dollars depending on the destination and how far is it the carriage varies and should be asked from the cargo airliners.
The variety in packaging and the different qualities as well as the unstable price of saffron make it impossible to offer a price here.
Shipment
We can export from the capital city of Tehran airport (IKIA). Products are shipped by air cargo and from Tehran international airport. All procedures are performed legally.
Contact us for a quote on the Iranian wholesale saffron price and buy saffron.
Mobile/ What' App/ We chat (+989122386171)
Why can you trust us as an Iranian wholesale saffron company?
Due to supplying pure Iranian wholesale saffron from first-hand farms such as Qhaenat and Ferdoss in Iran and providing the lowest price Eyjan Saffron has a special place in the market of Iran and other countries.
And because of the best quality of Eyjan Saffron among various brands of Saffron in Iran and worldwide, it has the highest demand comparing other brands and producers.
We believe that we are the best Iranian saffron wholesaler because Eyjan company with its more than 20 years of brilliant history, which originated from honesty and faithfulness as well as focusing on export premium saffron has no competitors in the freshness of its (dried) saffron and the saffron supplied by us is quite red and it has a production date and expiry date.
Not only are we experienced in our field of work, but we have a brilliant track record on our resume.
We have always made fidelity our priority.
We have also always tried our best to provide the best service to our customers. It does not matter if the service is sales support or product quality.
Our special effort of us is to provide the highest quality of Saffron at the fair price possible to be considered as the best supplier of Iranian wholesale saffron in the world.
If you are looking for a first-hand company to deal with and trust having the very pure natural best quality wholesale saffron just send us an email at
This email address is being protected from spambots. You need JavaScript enabled to view it.
Mobile/ What's App /We chat +989122386171
wholesale saffron, saffron wholesaler, saffron wholesale,
saffron wholesale supplier
It's no secret that global demand for saffron is on the rise. In fact, it's been declared as a "national treasure" in Iran, and for good reason. Saffron is a spice that has been used for centuries in various dishes all around the world. But where does this precious spice come from? And more importantly, what are the best crops to grow to produce it? In this blog post, we'll explore these questions and more. We'll also share tips on how you can maximize your yield from saffron crops and benefit from this expanding market.
About Kaveh Qadri
Kaveh Qadri is the Iranian saffron king, and he's known for his expertise in growing the spice. He's also made a name for himself by choosing the best crops to grow, something that has put him at the forefront of Iranian agriculture.

Qadri was born in 1974 in Iran's Gilan province. He began working as a farmer at age 16, and later earned a degree in Agricultural Science from Tabriz University. In 2000, he started his own business, Qadri Saffron Farms, which produces about 100 tons of saffron each year.

Qadri's dedication to quality has paid off; the saffron he grows is some of the finest in the world. His farms are located in three different provinces – Gilan, Mazandaran, and Tehran – and produce both red and yellow saffron threads. Qadri also exports his products worldwide.

Qadri is well-known within Iran for his work as an agricultural expert and for his efforts to promote Iranian agriculture abroad. In 2012, he was named one of Iran's "50 Most Influential People."
The Iranian Saffron King's Mission
The Iranian Saffron King is on a mission to bring saffron to the world. His cropping method is unique, and he has been able to cultivate some of the best saffron in the world.

SaFFRON IS AN EXTREMELY RARE FLOWER THAT NEEDS PRECISE CROPPING METHODS TO GROW IT WELL.

Iran's Safran King, Mohammad Ali Jafari, has been cultivating this delicate flower for over two decades now and his methods have allowed him to grow some of the finest saffron in the world. According to Jafari, good saffron needs a lot of sunlight, but it also requires sandy soil with plenty of water reserves.
How Kaveh Qadri Is Helping Iranian Farmers
Kaveh Qadri is an Iranian farmer who has been chosen as the country's saffron king. He grows the most expensive spice in the world on his family's farm in Iran. Saffron is a flower that grows in the Mediterranean region and is used to dye things like food and cloth. Iran is one of the largest producers of saffron, and Qadri wants to make sure his crop is the best it can be.

Qadri began growing saffron in 2004 after he saw an advertisement for a job at a saffron farm. He was hired on as a laborer, but after two years, he was promoted to head sorter and supervisor of the pesticide department. In 2006, he became head sorter and supervisor of production at the farm where he still works today.

Qadri oversees a 10-acre plot of land that produces over 1,000 kilograms (2,200 pounds) of saffron each year. To get his crop just right, Qadri tests different varieties of saffron to find those that are resistant to pests and disease. He also employs natural methods like composting to help his crops grow stronger.

Qadri earns about $4,000 per year from selling his saffron, which is more than double what he would make if he grew other crops on his farmland. But he says it's worth it because only premium-quality saff
The Benefits of Growing Saffron
Iranian saffron king has chosen the best crops to grow in order to maintain quality and quantity. The Iranian saffron king, Mostafa Mohammadi-Zadeh, said that there is a great demand for saffron in international markets and Iran has to produce high-quality saffron in order to compete. He also said that climate fluctuations and pests are the main challenges faced by Iranian growers when cultivating saffron.
Conclusion
In Iran, there's a king of saffron-growing who is known for his discretion and shrewd business decisions. His crops are some of the best in the world, and he has been able to maintain his throne by choosing wisely which crops to grow. If you're looking to invest in saffron production, or simply want to learn more about this fascinating spice, read on for insights from the Iranian Saffron King himself!