How to import saffron from Iran?
Why import saffron from Iran? Iran, with an annual income of about $100 million through saffron exports, is known as the largest exporter of saffron in the world.
Although importing saffron directly from Iran has unique conditions that make it difficult for importers outside of Iran, cooperation with a reputable experienced business partner can be fruitful.
Eyjan is an Iranian saffron producer Company in Iran that can supply first-hand Iranian saffron in all types, in unlimited quantities, in any season of the year, and at the lowest prices.
Eyjan Company also provides the best services to saffron importers across the globe to ensure the quality, and freshness of its produced Persian saffron.
In this article, we will explain the best sources to import saffron from and how to import saffron from Iran in full detail.
Contact us for more information and a free consultation.
This email address is being protected from spambots. You need JavaScript enabled to view it.
Mobile/ What's App /We chat +989122386171
Table of contents
How to Import Saffron from Iran
Cost of Importing Saffron from Iran
Top exporters and importers of Saffron
Why do countries import saffron from Iran?
How to Import Saffron from Iran

Ways of Importing Saffron from Iran
There are different ways to import saffron from Iran, which we will explain in the following.
1. Purchase from intermediary importers of Iranian saffron
Some countries mentioned in this article import saffron from Iran and sell it packaged or wholesale at a price 2-3 times higher than the saffron suppliers in Iran.
We do not recommend buying from these middlemen because, in addition to paying a higher price, you cannot be sure of the quality and purity of saffron offered by these brokers.
2. How to Importing Iranian saffron directly from the saffron producer in Iran
You can import saffron from Iran to all countries around the world. All countries but a few of them such as the USA, Israel, and in some cases Saudi Arabia are allowed to import saffron from Iran. Even the unauthorized countries mentioned above saffron can import saffron from Iran indirectly.
By buying and importing Iranian saffron directly from well-known saffron producer companies, you can import pure and first-class saffron with guaranteed quality at a very reasonable base price.
Eyjan is one of those few Iranian saffron wholesalers who is a saffron producer too.
Eyjan Company makes it possible to import any kind of Iranian saffron you need in unlimited Volume in all seasons and anywhere you are.
Contact us for more information and a free consultation.
This email address is being protected from spambots. You need JavaScript enabled to view it.
Mobile/ What's App /We chat +989122386171
· Eyjan Iranian saffron types:
Our product includes all kinds of Iranian saffron which are (in bulk or retail packaging):
· Eyjan saffron packaging types:
If you buy bulk saffron your order will send to you in metal boxes (a metal box holds 400 grams to 700 grams of saffron depending on the type of saffron you ordered) or plastic bags by your choice.
Retail boxes will send in special boxes with very special outer covers (Metal box, Jar box, or Rectangle box). These boxes have 3 different sizes that you can choose between. 1-gram common boxes and 3-gram or 5-gram boxes can be ordered by custom.
also, you may order inner and outer boxes with your private label or our private label if you order 3000 or more of each box.
You can also request a sample to make sure about Eyjan company produced saffron quality.
· Eyjan MOQ (Minimum Order Quantity):
Our minimum order quantity (MOQ) of Eyjan company is 3kg net saffron for saffron in retail boxes and 5kg net bulk saffron.
· Eyjan company Saffron transportation:
Eyjan company sells wholesale saffron to all over the world but the Transportation is by airplane.
We export saffron from the capital city of Tehran airport (IKIA) all around the world.
· Delivery time of Eyjan company products:
Our delivery time is approximately 20 working days.
· Eyjan company incoterm (international delivery terms):
There are 2 options for payment FCA (Free Carrier) and CFR (Cost of Freight).
No matter which of these options you choose to buy saffron from Iran, In any case, the buyer is responsible for shipping costs.
These conditions are intended for special cases, where the laws of the destination country do not charge tax on the shipping cost, so the buyer prefers to pay the shipping cost separately.
· Payment terms and conditions:
You order the invoice. The invoice will send to you.
Bellow 1000 CA$ will pay to our PayPal account and more than 1000 CA$ will transfer to our bank account.
Please note that the saffron business is the advance payment or Telegraphic Transfer in advance. we also do not accept any sort of L/C or other methods of payment.
After payment is received the order will start processing in Iran customs. Then it will be delivered to the courier to be sent to your international airport. And you clear your saffron from customs.
For the samples, the method is door to door and delivers directly to your address.
To import saffron from Iran there are general things you should know.
To start you should have a trustworthy saffron supplier in Iran.
Buying saffron from Iran has a very important point which is payment through Iranian banks.
Iranian banks are under SWIFT sanction, Which means they are disconnected from the rest of the world.
How to pay saffron wholesalers in Iran?
How to import saffron from Iran? when you find your trustworthy saffron supplier or saffron producer in Iran then ask them if they have a bank account outside of Iran or not.
Some of the saffron wholesalers may not have a bank account or anyone outside of Iran to undertake their financials!
So how to import saffron from Iran?
There are ways. Find an exporter who exports from your country to Iran, this exporter has partnered in Iran and they are receiving your currency from the Iranian importer partner then you can pay the exporter and the exporter partner in Iran will pay your saffron company in Iran, maybe it is complicated at first but it is feasible I have seen lots of customers dealing this way.
If you don't have access to exporters in your country or you can't deal with a businessman in your country then how to import saffron from Iran?
Again, there is a way. Find exchange agencies in your country who have partners in Iran and it's easy to pay them this exchange agency will order his fellow business in Iran to pay your saffron supplier.
What documents do you need to import saffron from Iran?
How do import saffron considering your country's customs clearance documents list, to be honest, different countries have different laws, some of them are easy and only need a phytosanitary certificate and some countries also need a certificate of origin.
How to import saffron from Iran when my country needs many documents
Some countries need many documents like a phytosanitary certificate, certificate of origin, invoice, and packing list with complete details they maybe require original documents to come with a Bill of loading and an Air bill. all the documents will attach to the carriage cargo bill.
Contact us for more information and a free consultation.
This email address is being protected from spambots. You need JavaScript enabled to view it.
Mobile/ What's App /We chat +989122386171
Cost to Import Saffron from Iran

The main part of saffron comes from Iran so Iran is the main determinant of the price of saffron.
Saffron's supply chain contains farmers, manufacturers, traders, importers, retail stores, and the retail consumer.
And the price of saffron varies depending on which of the participants in the supply chain you choose to purchase from.
The price is determined by the supply and demand, and the currency exchange rate. And also other factors such as minimum wage, technology, marketing costs, import tariffs, etc.
To import saffron from Iran you have to take into account the currency exchange rate between importing country and the producer's country.
To buy Iranian saffron at the lowest price, the best way is to eliminate middlemen and buy saffron directly from saffron producers in Iran.
Eyjan saffron producer Company has made it possible for saffron importers up all over the world to purchase and import saffron directly from Iran.
Contact us for more information and a free consultation.
This email address is being protected from spambots. You need JavaScript enabled to view it.
Mobile/ What's App /We chat +989122386171
Top exporters and importers of Saffron
Saffron is one of the most important export products of Iran.
And Iran is the first largest saffron exporter anywhere in the world, with a 44.38% share in the world saffron export in 2021 which is 273.35K tones.
The main countries that import saffron from Iran in 2021 are Spain (47.92%), Sweden (19.98%), France (17.71%), Austria (14.18%), and Oman (0.22%).
Spain is the second largest saffron exporter. In addition to growing saffron, Spain is the main importer of saffron around the world, and imports 21.8 percent of the world saffron. This country supplies a large part of its exporting saffron by importing saffron from Iran. Then this saffron is packaged and exported to countries around the world under Spanish labels.
UAE is another exporter of saffron, but without any saffron production, only by importing bulk saffron from Iran and other countries.
In addition, Iran imports saffron to Hong Kong, China, Vietnam, Kuwait, India, Saudi Arabia Pakistan, Bahrain, Turkey, the United States, Japan, Canada, Iraq, Turkmenistan, Latvia, Jordan, Australia, South Africa, Afghanistan, Algeria, Germany, the UK, Italy, Brazil, Belgium, Bosnia and Herzegovina, the Czech Republic, South Korea, Denmark, Singapore, Qatar, Switzerland, Serbia, Finland, Philippines, Kyrgyzstan, Kuwait, Georgia, Lebanon, Poland, Madagascar, Malta, Malaysia, Hungary, Morocco, Norway, New Zealand, Netherlands, and Greece, etc.
Contact us for more information and a free consultation.
This email address is being protected from spambots. You need JavaScript enabled to view it.
Mobile/ What's App /We chat +989122386171
Why do countries import saffron from Iran?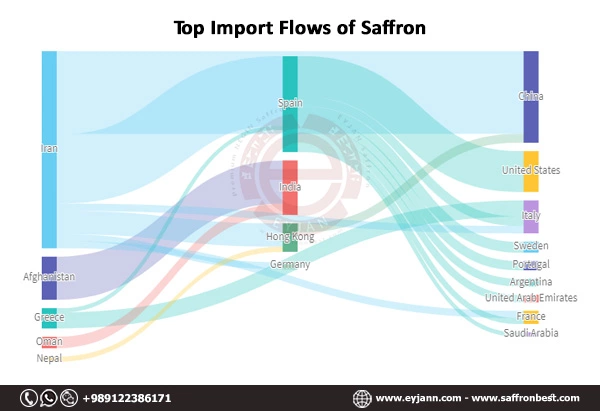 Due to Iran's suitable climate for saffron cultivation and appropriate height of agricultural land, this valuable plant can be cultivated in most regions of Iran.
Suitable climatic conditions along with the high expertise and experience of Iranian farmers who have cultivated saffron for thousands of years have provided the conditions for the production of the best saffron in the world.
In different regions, Iranian saffron is used for different purposes.
Unlike the Iranians who mostly use saffron for the color and aroma it adds to foods, drinks, and desserts, people in European countries pay more attention to the antioxidant properties of saffron, therefore, it is mainly used as medicine in Europe, and Americans use it in the pharmaceutical and food industry.
Contact us for more information and a free consultation.
This email address is being protected from spambots. You need JavaScript enabled to view it.
Mobile/ What's App /We chat +989122386171