Eyjan saffron producing company is presenting you the saffron ice-cream recipe
Saffron ice cream recipe
Saffron Ice cream is one of the most luscious and tasty desserts that will become more popular in the summer.
On hot days of summer, nothing would be as appetizing as a cold and sweet dessert. When the weather is warm, any combination of sugar and ice can be great and tasty.
The lovely combination of incredible spice named saffron with pistachio which is a delicious nut, alongside rose water makes this mixture wonderful.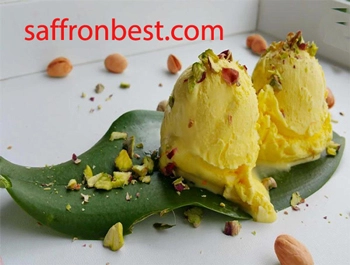 Luscious saffron ice cream recipe
Why saffron ice cream is popular in Iran
Iran is known for the provenance of the Icy desert all around the world. As we mentioned before, ancient Iran was one of the first lands of ice cream inventors.
The originality of Iranian ancient ice cream has been still preserved in its modern appearance of it.
Maybe the main reason for this mouth-watering dessert's popularity in Iran is the abundance of saffron and pistachio in this country.
The fabulous combination of saffron, pistachio, high-fat sheep milk, cream, and rose water made this mixture one of the most popular ice creams all around the world.
Medicinal features of Iranian ice cream
In addition to its unique taste, saffron ice cream has some medicinal features. Due to its ingredients like saffron, and rose water, this icy dessert brings joy and happiness, and it can help to boost the immune syst
em.
Furthermore, pistachio is a nutritious nut, and it helps to skin health, and it plays an important role in improving mind and heart strength. Besides, pistachio help to improve food digestion.
The golden color and pleasant smell
Saffron brings beautiful golden color and pleasant smell to this luxury ice cream. The heavenly odor of rose water also makes this dessert appetizing. You will never forget the flavor of cardamom in this mixture. Persian ice cream has a unique flavor which is surprising for people all around the world.
Eyjan saffron producing company is presenting you the saffron ice-cream recipe This ice cream is known as Bastani sonnati in Persian.
Let's start with the ingredients
You'll need :
2Tbsp cream
1/2 cup sugar
1/4 Tsp saffron
1/2 litre milk
1/4 cup rosewater
1/2 Tsp salep
Line a small dish with plastic wrap and pour 2 tablespoons of cream in so it's evenly spread across the dish. Freeze for about 3 hours
Boil some water in a kettle and pour half a cup into a bowl. Add a quarter teaspoon of granulated saffron and stir until it mostly dissolves.
Then Heat the milk to boiling
Transfer the milk into a large saucepan and add rosewater then add saffron to it
and whisk the mixture
In a bowl add salep to the sugar and then add them to your mixture
Let it cool down or refrigerate it for 30 minutes
Set your saucepan in a large bowl full of ice cubes and stir until creamy
That was the home-made recipe
You can also Place the mixture in the ice cream maker and follow the manufacturer's directions
Once the ice cream freezes remove it and place it in an air tight container. The ice cream is ready at this point. But you can freeze it for a couple of hours before eating.
The very last thing you're going to do is chopping up the frozen cream also you can add pistachios as a topping
Your ice cream is ready to serve!
Be sure to visit our store site : Eyjann online shop